The legend begins...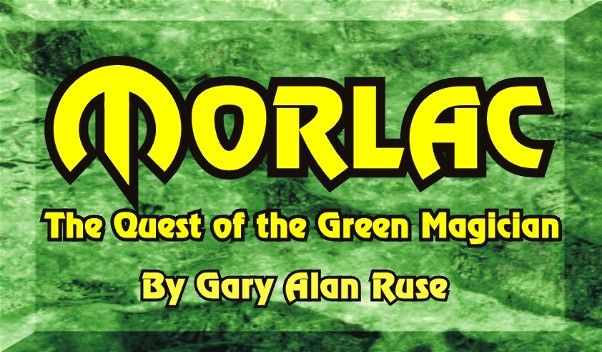 eBook and audiobook!

First published by Signet/New American Library in the late summer of 1986, MORLAC is an original epic fantasy novel, a sword and sorcery adventure with plenty of action, humor, and romance.

The book is comprised of a series of connected adventures. Morlac, searching for his own identity as well as for the sorcerer who abandoned him, encounters many exotic lands and dangers.

Set on a planet like Earth's barbarian past, yet different, it's a new world, a new mythology, a new set of empires, cities, peoples, and possibilities.
| | |
| --- | --- |
| | |
| The title character, Morlac, has been conjured by magick from the soul of a dead warrior and the living flesh of a large sea turtle. Transformed as a human, with the physical appearance and know-how of the warrior whose soul he shares, Morlac has been created to lead a small army of similar beings in defense of the Green Magician's domain. His magicked sword, "Shark" seems to have a will of its own, and his shield has been cruelly fashioned by the sorcerer from the very shell which once protected his back. Tormented by conflicting memories, Morlac is at war against his own nature as much as the multitude of enemies he faces in his homeland and beyond. | |
| | |
| --- | --- |
| | "Sordros," the Green Magician, a dark sorceror who uses magick to rule his small kingdom by the sea. Linked to the sea god Tritus, he has created a small army of "transmutants," sea creatures transformed into human warriors, to protect himself, his castle, his land and his people against an anticipated invasion from the North Kingdom's leader, L'Dron Kerr. Sordros is ruthless and unforgiving. |
| | |
| --- | --- |
| Morlac makes other friends, and enemies, along the way, and is involved in a romantic triangle with the Green Magician's daughter, Kadrana, as appealing as she is dangerous, and she is dangerous in the extreme. Kadrana, who is not truly Sordros's daughter but has an origin similar to that of Morlac, had taken as a lover the Captain of the Guard, Calrom, who had been killed in an earlier skirmish with the North Kingdom, but whose memories and fighting skills have been merged into the being who is now Morlac. Kadrana can work magick of her own, but her powers are not as great as those of Sordros. | |
| | |
| --- | --- |
| | The other part of the romantic triangle is Glendauna, a young woman Morlac later encounters who is a Durkesh Warrior, a brave fighter, yet who is also vulnerable and troubled by her own dark secrets. A daughter of noble heritage in an Eastern Kingdom, adopted by the roving gypsy-like Durkesh tribe after her family was killed by villagers in an uprising, Glendauna seeks to learn the truth about her past and to gain freedom from the White Wolf spell that haunts her. |
As he seeks the sorcerer who holds his destiny, Morlac gradually begins to accept himself for who and what he is. But he must fight enemies both human and supernatural in his ongoing quest.

Morlac and Broct discover to their dismay that although the enigmatic Baron Kumil is taking them, Glendauna and Broct's new found love Rila T'Faen across the Mid-Nordian Sea to the Phaedrocian colony of Neuphendurum in their quest to find Sordros, the Baron himself is a dark sorceror of the highest order and his plush galley is rowed by a crew of zombies. The Baron's special skills have been recruited by the leader of Neuphendurum, to be used in an all-out war against the people of the empire to the south, N'Bikcumboro.

There, in that fabled land of gold and treasure, Morlac will confront all those who mean anything to him, past, present or future.
The Relics of Morlac (click here)
Map of the World of Norda (click here)
What readers say about MORLAC...
"This is a great concept story. The concept attracted me to it, and kept me interested throughout the novel's entirety. Gary Alan Ruse painted vivid characters in my mind with subtle actions, something I try to emulate in my own writing - a very difficult task! Highly recommended."

T.S. Robinson.

"Summer vacation for the school aged child is a miracle filled time spent in endless sunshine. It was in that circumstance that I fell in love with this novel. I was about twelve years old and I read it furiously on an extended camping trip spent skipping around the national park system of my native West Coast of Canada. I must admit that this was my first foray into serious adult fantasy. I was transfixed, I was mesmerized and even fifteen years later I still remember that book with the fondness that I reserve for first kisses and first love. Is it a great novel? I admit to far too much rosy nostalgia, but it changed and formed my reading habits ever since."

Michael Meade MJM, British Columbia, Canada
P.S. "Was there ever a sequel?"

Review in DRAGON MAGAZINE, March 1987

"Gary Alan Ruse has reversed a modern publishing trend by providing an entire trilogy in one volume. Ruse writes with a lively yet remarkably descriptive style that is highly readable without being unsophisticated. To put it another way, the flavor of the text makes it clear that while Morlac has far more brawn than intellect, the same isn't true of Ruse. Though the novel is unquestionably light reading, the level of craftsmanship is considerably higher than might be expected in that category."

"A better than average fantasy story. Very good main character. Recommended."

Little Timmy B wrote this review Monday, June 23 2008.

High fantasy at it's finest.

"I have to admit, Morlac - The Quest of the Green Magician was one of the best fantasy books I've read in years. Not since Robert E. Vardeman's War of the Powers and Swords of Raemylln series have I come across a high fantasy story that I thoroughly enjoyed. I would definitely recommend the book to anyone fond of stories about Conan, Tiana (War of the Wizards), Sonja, Kull, Gath of Baal (Deathdealer series) or any number of Forgotten Realms novels. I wasn't sure what to expect when I picked up the book but I was incredibly pleased by the end."

D. Dredske "Media Man" (Minneapolis, MN, USA)

Posted on Amazon.com. January 26, 2010
Representation: Mark Pavlovich of Character Talent, Hollywood CA, phone 714-749-2532
Midi Music Score: "Path of Water" © by Neno Vugrinec, all rights reserved. Click here to hear other music by the talented Neno Vugrinec.
Copyright 1986, 2009, 2013 and 2017 by Gary Alan Ruse. All rights reserved. This artwork and other content is the intellectual property of the author and may not be copied or duplicated in whole or in part, in any form or format, including digital or other electronic means, without the express written consent of the author. It may not be posted on the internet or made available for distribution by other means.